Rising Sun: McCarthy's Scorched Earth Policy

As we previously reported, despite best efforts of the corrupt County government and the ill-thought-out dreams of well drilling enthusiasts, the Maryland Department of the Environment recently took the side of Rising Sun and the comprehensive plan, approving the County's Master Water and Sewer Plan with amendments to allow Rising Sun to run its pipeline outside municipal limits.
However, it seems that Executive Alan McCarthy can't lose gracefully. Or more likely, his donor, Artesian Water Resources, begrudges the loss of their monopoly on servicing the County's water needs.
A press statement was made by the Executive stating that there are no quality issues with the water at Rising Sun Elementary School and West Nottingham Academy; an implication that the town of Rising Sun had been misleading the public to rally support for their water plan.
Conveniently enough, Thomas Banks of West Nottingham Academy submitted a letter to the editor of the Cecil Whig denouncing Rising Sun and supporting the County. In it, he implied that Rising Sun was pressuring him to hook up to their water line.
But the evidence is not on their side. Cecil County News has obtained records of email correspondence between Mr. Banks and Town Administrator Calvin Bonenberger Jr. where WNA's Head of School makes statements that run counter to what he told the Whig.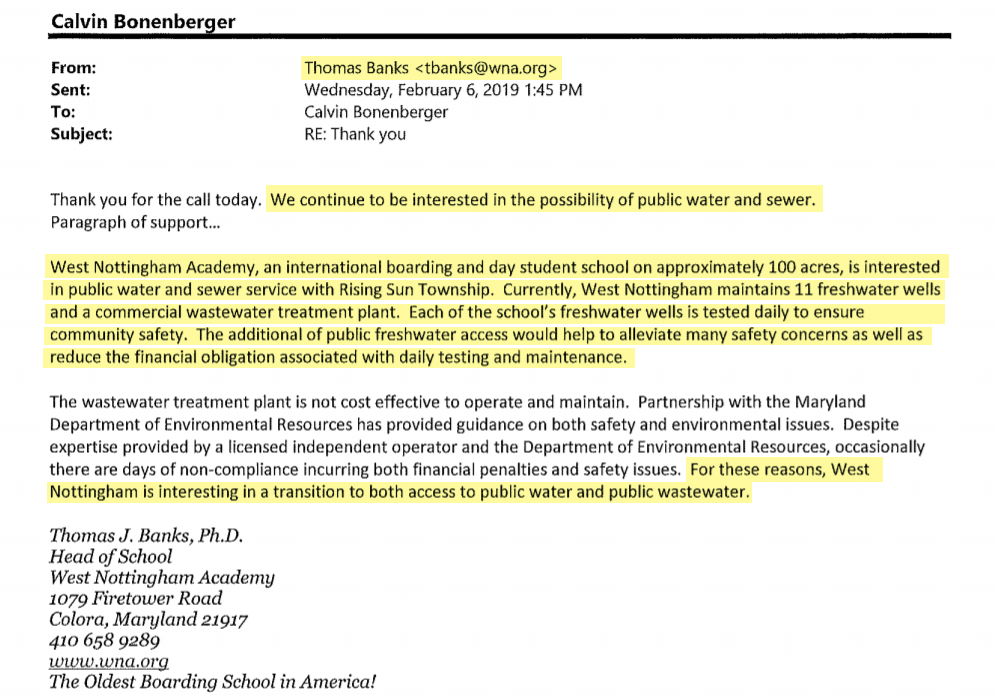 For a Ph.D. you would imagine that he would have heard of the Freedom of Information Act and know that he cannot get away with lying. Any person capable of writing basic English can request public documents and correspondence. Denying that request constitutes a crime.
If there are no water quality issues with WNA, why are they going to the expense of testing their wells daily, and displaying interest in hooking up to Rising Sun to save on that expense? A lie can only evolve so much before it becomes insulting to intelligence.
The same applies to Rising Sun Elementary which uses water filters. Actions speak louder than words, and if you're taking measures to check and improve the quality of your water, you cannot honestly claim that there is not a problem.
In reality, Mr. Banks has a better offer from the County/Artesian. The need he feels to lie to the public is senseless, unless public support was a requirement in order to get a lower rate.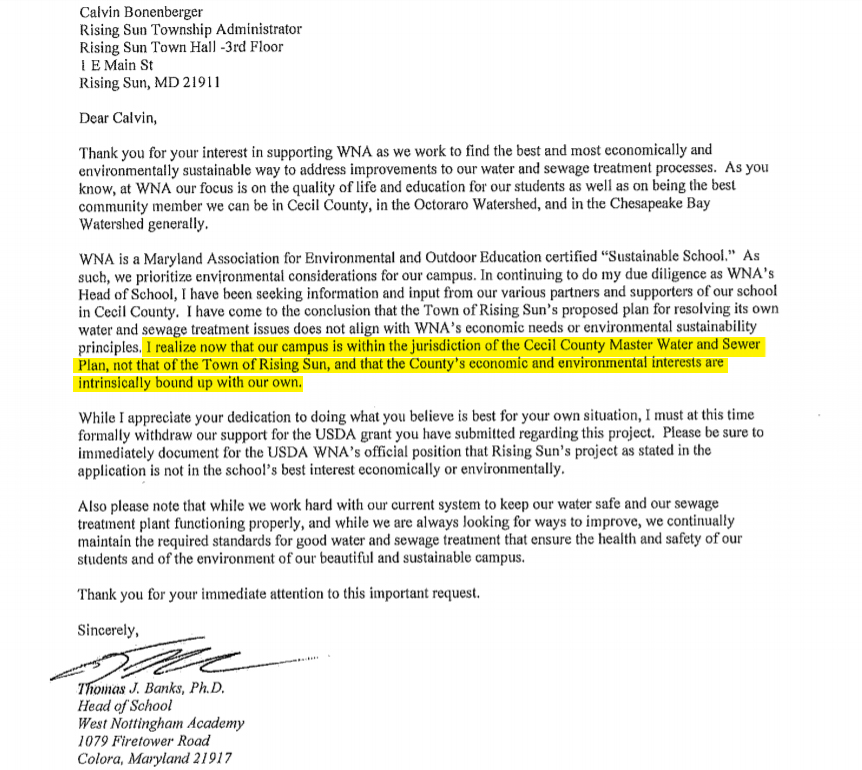 At this point in time, the conduct of the McCarthy Administration and their backers amounts to sore losers carrying out a scorched earth policy.
After previously blocking Rising Sun from obtaining grant money to pay installation costs for Rising Sun Elementary, refusing to issue county funds to install fire hydrants outside municipal limits when they were ordered by the state to do so, and being reprimanded by the Maryland Department of Environment for this crooked behavior, it would be wise for them to not let their water grudge boil over.