Cecil County Government Sued For Constitutional Violations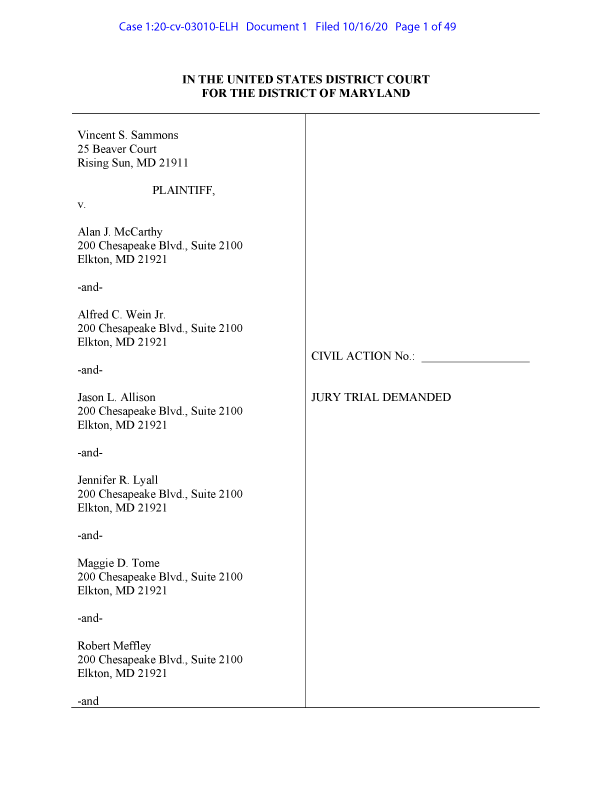 This article follows up on an earlier story, Alan McCarthy's Illegal Censorship of Constituents
To recap: it is illegal for elected public officials to censor their constituents and silence their voice on any public forum. In 2018, the ACLU settled a lawsuit with Governor Larry Hogan for deleting comments on his official Facebook page, and a federal court ruled that President Trump could not block individuals who post negative comments on his Twitter account. In 2019, the Fourth Circuit Court of Appeals ruled in 2014 that the comments section of a public official's social media account is a public forum and discrimination against contrary opinions is not allowed.
Vincent S. Sammons of Rising Sun, MD, has recently filed a lawsuit against the Cecil County Government, naming Alan McCarthy, Alfred Wein, Jason Allison, Jennifer Lyall, Maggie Tome, Bob Meffley, Deborah Sniadowski, Brian Miller in both individual and official capacity as defendants.
The suit contends that the defendants named have purposely violated Mr. Sammons' First and Fourteenth Amendment rights, as well as Article 40 of the Maryland Declaration of Rights. These alleged violations occurred when Mr. Sammons was blocked from posting and commenting on the Facebook page, "Dr. Alan McCarthy, Cecil County Executive"; when Mr. Sammons video feed was blocked during a virtual county meeting held on Zoom due to the COVID-19 pandemic; and when Mr. Sammons' email was blocked from contacting the county government by States Attorney Jason Allison.
Screenshots and other documentation have been provided to the court by Mr. Sammons' attorney as evidence.
As many know, Vincent Sammons has been a resident of Cecil County for many years. He was once president of the Rising Sun Chamber of Commerce and is now the Chairman of the Cecil County Republican Central Committee. He is a self-made businessman and his name has become widely known for his social media presence and outspoken criticism of corruption in the County Government and special interest groups backing it (which has resulted in repeated harassment against him by the County and members of the Cecil Business Leaders PAC "CBL" over the years).
Another county resident, Rob Perkins of North East, sympathetic to this case, has started a fundraiser to assist with Mr. Sammons' legal fees.
In an era where civilian controlled government has become threatened by increasingly powerful organizations and institutions and may soon cease to exist, it is the right and duty of the citizens to question and challenge the establishment and ensure what President Lincoln described as the government of the people, by the people, and for the people, continue to endure.
The full PDF formatted complaint can be viewed by clicking on the image of the complaint above.